Recent Posts
16/04/2014 | No Comments »

"My brain processed disgust and fault, but fairness also factored"
I meant to pay the ticket on time, but when both extensions I'd requested were granted, so much time had passed I marginalized its importance. When I finally faced the music, the Traffic Commissioner was happy to suspend my hefty fine in exchange for 50 hours of community service at a local Goodwill Donation Center. Welcome to 

#4

 in a series…(Here's parts 

1

, 

2

, and 

3

)
March/April 2014 – Goodwill Donation Center, Friday.
It's one thing to work alongside Goodwill's physically challenged employees and see the nonprofit's bighearted claims of helping the disabled play out before you. It's quite another thing to use a toilet after them.
But first, a little scene setting…
Disabled persons selected to work at this particular Goodwill are essentially removed from the non-disabled. To use the employee break room, for example, they have to pass through the "regular" employees' work areas, but not the other way around –because they're stuck in a corner. They're not banished in any way, but they do work in a rather lonesome neighborhood of the building.
I'd rather not exaggerate things by adding that their primary function –sorting donated clothes– is the most repellent of Goodwill tasks, but it's true. It doesn't help that the neighborhood in question is surrounded by a wall of six-foot roller-bins, clothing racks, and giant piles of donated garments. Benjamin Netanyahu would be jealous.
Donated Clothing Fun Fact: even by the time garments reach the floor, soiled handkerchiefs and, er, other items, can often be found in pockets. It's dicey, sure, but my guess is everyone goes through a checking-pockets phase regardless. You can't watch how nonchalantly bags of expensive clothing are thrown from luxury cars by people who decline receipts without letting your curiosity get the best of you. Read the rest of this entry »
10/04/2014 | 2 Comments
You're told someone upset is waiting to speak with you on line two.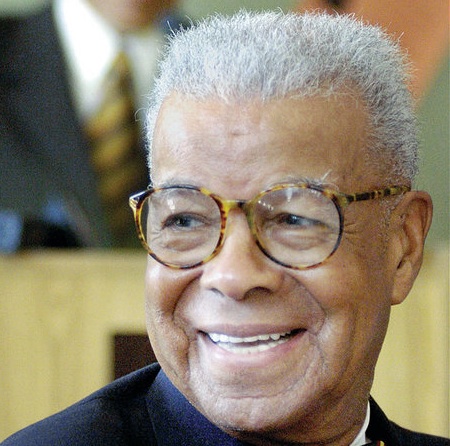 He's alternately weeping and cursing. He'd just informed whoever answered that your office's most experienced people don't count for shit: it's you or nobody.
He's on the run, apparently, and deathly afraid of the cops learning his location. He's a suspected murderer they've been after for months. He's tired. He can't run anymore. It was self-defense, he insists, but in police custody he knows he's in for beatings and probably death.
Terrific. You've got it bad enough as it is; you don't need more hassles. As the only black man with a desk in this white staff room, you already stick out like a sore thumb. Hell, just out in the hallway, above the restrooms, the words "COLORED" and "WHITE" are under scant few of coats of paint –and you remember when the first was applied.
Explicit racial segregation may have been recently outlawed, but the leftovers of implicit segregation are everywhere. You know some of your colleagues are lurking, questioning why you'd even been given this job. You're one of maybe three black journalists in America working for a major metropolitan newspaper (white owned, of course).
Not only are you lucky you're not pushing a broom, here's your next story being handed to you personally. No hunting down witnesses for lengthy interviews, no knocking on doors or being told to get lost. All so you can stand in the way of 20 seething badges, each of whom is banging at the starting gate for a run at your new friend. There are few things cops hate more than not controlling the narrative of an apprehension, and this won't easily be forgotten.
But that's okay: you've got this. You are Chuck Stone. Read the rest of this entry »