Recent Posts
17/08/2014 | No Comments »
Jeffrey Chapman's trial begins next week. He'll wear a turtleneck.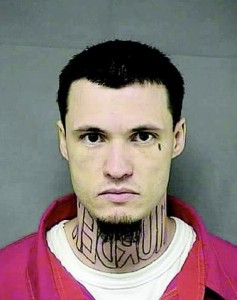 For those unfamiliar with the young man's plight, Jeffrey Wade Chapman is an accused murderer who doesn't want to start his murder trial with the word "MURDER" tattooed across his neck. In April of this year, I mistakenly closed a previous Chapman entry, "A Billboard for Brainlessness," with, "as far as most are concerned, that's the end of his story."
Turns out, not only does Chapman's saga continue (the trial was postponed pending his court-ordered mental evaluation), I think I've figured out a way for his defense to turn that tattooed frown upside down!
Chapman's attorney previously appealed to the court to allow a professional tattoo artist into the jail to obscure, alter, or remove the tattoo from his client's throat, but he'd been turned down. So, between the prosecutor, the judge, and the sheriff running the jail, alternate ideas of a turtleneck and fake bandages had been proposed. The turtleneck won, which I find disappointing 'cause I really wanted to see the bandage idea in action. Imagine the distraction in the courtroom!
The sheer volume of gauze and medical tape required would make it tough to keep a straight face. How could the defendant – or anyone for that matter – manage to behave as if it wasn't there? Watching someone otherwise unimpeded by the serious injury such a large bandage implies would be off the hook. I can just imagine Chapman, mid-proceedings, jabbing his fingers between fraying layers of gauze to get at an itch and expecting no one to notice he has no difficulty responding verbally to the judge's questions – again despite his apparently sizable wound.
That's not to say the turtleneck won't be an elephant in the room on its own. But now I believe Chapman would be best served by leaving the tattoo exposed. In fact, it could be one of those crazy-daring defense maneuvers silly jurors love to be charmed by.
10/08/2014 | 2 Comments
Ruling James Brady's death a murder is to piss on his brave legacy.
The passing this week of James Brady, former White House press secretary, has been ruled a homicide 33 years after he was wounded in John Hinckley's attempted assassination on President Ronald Reagan.
Jim "The Bear" Brady, a friendly, unpredictably witty, and satirical man, survived being shot in the head, even though his life was changed forever. Brain damage and partial paralysis kept him wheelchair bound; his speech was slurred, and he was in a good deal of pain until the day he died. Nancy Reagan reflected that knowing him meant learning what it truly is to "play the hand we're dealt."
Brady became an example of what I believe matters most in life: Living, not by what you think happens to you, but instead by what actually does.
Which is exactly what someone needs to remind the North Virginia Medical Examiner, who, in making this pronouncement 33 years late, did nothing more than tee up another round of partisan hate-trading –this time about whether John Hinckley should be prosecuted for murder.
Is it just me, or does this come from the same playbook someone will triumphantly read from when "evidence" of Saddam Hussein's WMDs are discovered in 40 years? Read the rest of this entry »